Artist : Prints
About the Ashokan Bridge prints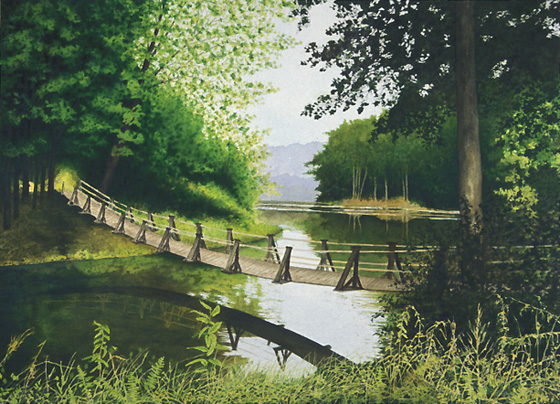 The print editions made from the watercolor Ashokan Bridge were created by The Highland Studio in Beacon NY, a fine art gallery and studio specializing in archival digital printing. The printing process at Highland Studio is often called "giclée" or "IRIS" printing and uses a specialized digital printer: the IRIS 3047G. The ink and paper are archival quality, tested extensively by Wilhelm Research, and certified to be without any noticeable color change for at least 75 years. This kind of printing is very different from the posters made by high volume print factories and many businesses that do "digital printing."
The reproduction process began with a high-resolution digital scan made from my original watercolor. Proofs were made on the IRIS printer from this digitized file using the same ink and paper as the final edition. We critiqued the proofs for color accuracy and made changes until we were satisfied that the colors were as near perfect as possible.
The original painting is on 400lb Arches Cold Press watercolor paper. The prints are all on Arches 140lb Cold Press watercolor paper. I'm thrilled with the results and with the professionalism and expertise at Highland Studio. I look forward to future collaborations.
Ashokan's future
If you're a friend of Jay & Molly and their Fiddle & Dance music weeks, you know that the future of programs at the Ashokan Field Campus was in limbo. Now the future is a work in progress, to be discovered and developed through The Ashokan Foundation, Inc., an environmental learning center in harmony with nature, music, and art.
I'm donating 30% of the sale price of each Ashokan Bridge print to The Ashokan Foundation, to help ensure many more years of music, dance and much, much more.
To order a print
There are three different print sizes of Ashokan Bridge. Dimensions refer to paper size; the image is approximately two inches smaller, allowing for a border. Each print is hand signed, numbered and titled.
| Image size | Edition size | Print cost | Packing & shipping | Tax* |
| --- | --- | --- | --- | --- |
| 11" x 14" | 150 | $125 | $8.85 | $6.25 |
| 16" x 20.5" | 100 | $200 | $12.85 | $10.00 |
| 22" x 29" | 50 | $375 | $17.85 | $18.75 |
*This additional 5% MA state sales tax applies only when I ship to an in-state address, or when you pick your print(s) up from me directly.
Send check or money order for the cost of print, plus packing and shipping, to:
Liz Toffey
92 W. Parsons Dr.
Conway MA 01341-9777
Print(s) will be shipped via USPS Priority Mail upon receipt of order and payment.
Alternatively, you may arrange to pick up the print.
For appointment or questions, please call 413-369-8009 or email liz@liztoffey.com.